At the practice of Alan L. Frame, D.D.S., we use digital X-rays to create detailed images of patients' interior dental structures, allowing us to better plan treatment and restorations, including dental implants. We are very pleased to use the portable NOMAD X-ray system to make this process quicker and more convenient. Please contact our office at 408-244-3562 to learn more about NOMAD digital X-rays in Santa Clara, California, and to schedule a visit with our dentist.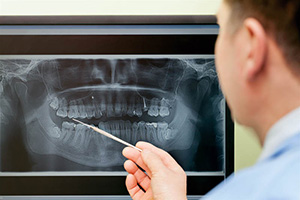 Along with laser dentistry, another example of our team's advanced technology is our use of NOMAD digital X-rays to elevate our diagnoses and treatment plans. Digital radiography has not only made the process of examining your smile faster, more comfortable and more convenient for our patients, but it also uses significantly less radiation than traditional film X-rays, making them altogether safer as well. The high-quality images and models created with digital X-rays can also be shared immediately with the patient, doctor and assistants on the monitors in our treatment rooms. These images can then be examined to identify several potential dental issues, including:
Tumors
Bone loss
Dental decay
Cysts and abscesses
Infection in the tooth nerves
Developmental abnormalities
Misaligned teeth and teeth roots
Miniature fractures in teeth or existing fillings
These digital X-rays are also an important part of the treatment planning process and help our team prepare for oral surgery procedures, root canal treatments, dental implant placements, orthodontic treatments and more. To see our team put digital X-rays to use to improve your dental health, schedule your appointment with our dentist today.